Facebook Default Page Change: Business Killer OR Killer Strategy?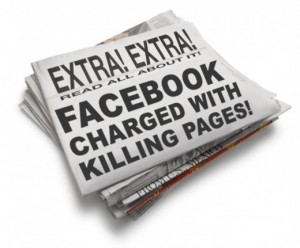 Since Facebook made their announcement last week regarding the upcoming transition of business pages to the new Timeline format, the speculation and theories about the future of custom Landing and Welcome pages, without the option of setting them as a default for new page visitors, has been rampant.  According to Facebook:
"For Pages with the new Timeline design, everyone who visits your Page will land on your Page's timeline (wall). In order to create a consistent user experience, you can no longer set a default landing view for your Page."
This was a surprise to many marketers and brands (us included) that invested time and money in creating and designing their Welcome pages and the strategy around them.  But now that we've had a week to thoroughly investigate every change and feature that comes with the new Timeline, we're starting to see things very differently.
With the loss of the "default" option, are custom pages really dead?  Maybe to the Facebook layperson, but those who truly understand online marketing and the ins and outs of Facebook will see them as we do; as a killer marketing strategy!  Yes, custom pages are alive and well and below are the top 5 reason why we believe they are still a must-have for your Facebook presence.
It's your biggest FREE ad space on Facebook.  And now that space is even larger!  App pages have been expanded from 520 pixels to 810 pixels in width!  That's a hefty piece of free online real estate.
People are visual.  Newbies promoting their business on Facebook will believe the Info page will be sufficient for their business' information.  While the Info page is important, it doesn't have the same visual appeal.  People are drawn to graphics when online (for evidence of this you need only look to the Pinterest craze!).  A custom page is the best way to visually share about your business, expand your branding beyond your Timeline cover, and share your personality with your page's followers.  And with the flexibility that Facebook now offers to customize your App buttons, you have an amazing opportunity to brand your Timeline AND drive traffic to your custom pages.
It's added-value for your page.  You want people to engage and interact, and after visitors have "liked" your page, this engagement most often takes place via the news feed.  However, imagine making your business Timeline a destination on Facebook; a place to visit regularly and a portal to your website and other online properties.  To achieve this you must give people a reason to visit, and visit often.  A custom page (or pages) offers added-value to your Timeline and a reason to actually come to your page.  For this reason alone, you will want to have more than one!
Showcase key information and offers.  A Welcome Page is still the best place to spotlight your e-newsletter and opt-in process, your free "pink-spoon" incentive, upcoming workshops or events, your blog, and more.  With the proper strategy your custom page can play a big role in your overall plan and support your marketing efforts on a grander scale.
You can still inspire a "like".  Your custom pages have a specific URL, which means you can direct visitors to your custom pages, in many ways, from outside of Facebook.  This gives you the same opportunity as before; to inspire a "like" with an arrow or a clever call to action statement.  And, many don't realize that their fan-gates still work.  Because of a glitch fan-gates were not refreshing after visitors to custom pages clicked "like".  This has now been resolved by Facebook and offers another advantage and reminder to your page visitors to click the "like" button.
So, while at first glance it would seem that there is no point in having a Welcome/Landing page on your Timeline and Facebook has essentially killed custom pages, we say, don't press charges just yet.  Our evidence suggests custom pages are going to play an even greater role in a successful Facebook presence.  What that means to you depends on your strategy and how well it's implemented…and that's what we do best.  If you're ready to lock up Mark Zuckerburg and throw away the key, let's talk first.
A Free Social Media Solution…

Time and again we hear you say, "I don't know what to post." Well, we've got the solution!

Get your free copy of "

Post Prompts: Daily Inspiration for Facebook Posts and Twitter Tweets

" and never be left at a loss for a status update again! Plus, receive your free subscription to "News Onlime" as a bonus!

You can be assured that we will never sell, trade, or rent your contact information...EVER! We hate junk and spam too.

What others are saying...

Join Us on Facebook!