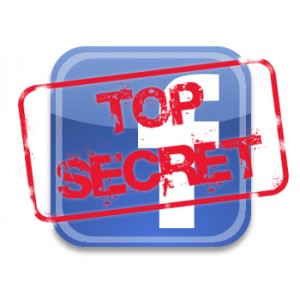 Are you keeping your business' Facebook page a secret?  Preposterous, you protest?  Well, you must be, otherwise you most certainly would have shared your page with your Facebook friends, right?
We find a great majority of Facebook newbies have missed this important page promoting step, and by doing so, they are making their pages a very well-kept secret.  Below are three simple ways to get the word out about your new page, fast.
Like your own page. This may seem like a no-brainer, however, we often find page Admins and key staff have forgotten to "like" their own Facebook page.  Depending on your Privacy Settings, any number of subtle promotional events fall into place when you like a page: Your "like" appears in the Facebook news feed and ticker stream, your Facebook friends will see you like the page when they visit (confirming they are in the right place), and if they then choose to like your page, that action becomes visible to their Facebook friends too, adding to the whole viral component of social media.  So while simple, this is one of the most powerful promotional actions you can take.
Confirm that your personal Profile "Info" page is up to date. Another important promotional step is to ensure the "Info" page of your personal profile is complete and accurate.  Here's the step by step for this critical move.
Alert your Facebook Friends. Post a comment to your personal Profile page inviting your Facebook friends to check out your business's Page and "like" it.  Be sure to include a link to your page for their convenience (this will also generate an attractive and eye-catching graphic of your profile image).  Tell them if they like what they see you would appreciate them using the "Share" link in the lower left of your page, to share the page with their friends.
EXAMPLE:
We just gave the XYZ Facebook page an update and would love for you to stop by and take a look. While you're there, "like" our page (if you haven't already) and comment on a post or two! If you like what you see, please use the "Share" link in the lower left margin of the page to tell your friends about our page so we can inspire as many as possible to live healthier and happier! http://www.fb.com/examplebusiness
Use the "Invite" Feature. If you are an Admin for your Facebook page, use the "Invite Friends" feature to suggest your page to friends of your personal Profile.  From your Facebook page, click on "Invite Friends" located in the upper right of the page.  Select the friends that you would like to invite to follow your page from your Friends list (or sort by specific criteria by clicking on the down arrow to the right of "Recent Interactions").  NOTE: How your Friends are notified of your invitation has been revised several times by Facebook in recent months.  At the time this article was written, Page Invite notifications are appearing randomly in the left margin of your Profile page and among your Facebook notifications.  While Page invites are easy to overlook, it's still a worthwhile strategy and best-practice.
A Free Social Media Solution…

Time and again we hear you say, "I don't know what to post." Well, we've got the solution!

Get your free copy of "

Post Prompts: Daily Inspiration for Facebook Posts and Twitter Tweets

" and never be left at a loss for a status update again! Plus, receive your free subscription to "News Onlime" as a bonus!

You can be assured that we will never sell, trade, or rent your contact information...EVER! We hate junk and spam too.

Join Us on Facebook!