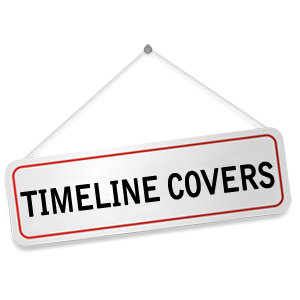 The change is inevitable, but are you ready?  Rumors have been circulating for weeks now that Facebook will be automatically switching all Facebook profiles over to the new Timeline (if you haven't hopped on the bandwagon already).  Yes, we know, another major Facebook change, however we can't help but love it!
What a great way to really showcase your personality, your passion, and yes, even your profession, via your Facebook profile.  The focal point of the Timeline is the cover image.  Front and center, this image takes residence at the very top of your page, giving you the perfect opportunity to express yourself.  And with that, the right-brained people of the world have set out to come up with creative uses for that space.
Here are the need-to-know details:
Timeline Covers are public, just like your profile image.  So don't incorporate any information that you don't want the world to see.
While Facebook is dissuading users from using the space for business promotion, their new "Subscriber" feature has really blurred the lines between personal profiles and business pages.  We have been unable to find anything within the Facebook terms of use that directly forbids any business related content on your Cover.  We must remind you of this rule, however, which has been around for years: "You will not use your personal profile for your own commercial gain (such as selling your status update to an advertiser)."  So don't make any direct money from your Timeline Cover image, and you should be in compliance.
The specs of the Cover image are 850 pixels by 315 pixels and the smaller profile image is 125 pixels by 125 pixels.  A free PhotoShop template can be found here (scroll all the way to the bottom…but enjoy the creative ideas on the way.)


Now that the boring details are out of the way, let's get to the fun part!
For some creative inspiration, take a look at what others have done.  Check out these sites for some amazingly creative Cover ideas:
Use a Facebook Cover Creator.  Visit these cool sites:
Use your words (a name, phrase, power word, etc).

Write it in sand (as pictured above).
Create it using photography.  Check out this cool site for letters and numbers that are free for your non-commercial use!  Thanks Leo!
Create a Word Cloud

To get extra creative with a personal photo, visit sites such as Photofunia and Dumpr.
We would love to see final Timeline Cover design.  Please come by Limelight Social Media's page on Facebook (and be sure to "like" us while you're there) and post a comment to our wall that says, "Check out my Timeline".  We'll pop over to take a look!  Or, feel free to paste your Facebook profile URL in a comment below.
A Free Social Media Solution…

Time and again we hear you say, "I don't know what to post." Well, we've got the solution!

Get your free copy of "

Post Prompts: Daily Inspiration for Facebook Posts and Twitter Tweets

" and never be left at a loss for a status update again! Plus, receive your free subscription to "News Onlime" as a bonus!

You can be assured that we will never sell, trade, or rent your contact information...EVER! We hate junk and spam too.

What others are saying...

"

Kim and Becky are a 1-2 punch and have created a niche that all businesses want and need. They are organized, detailed, timely and available when needed. They are real, honest and communicate openly. I view these ladies as team members – ones who value who we are and what we do and know how we think.

"

Dr. Tiffany Johnson

Healing Touch Chiropractic

Join Us on Facebook!