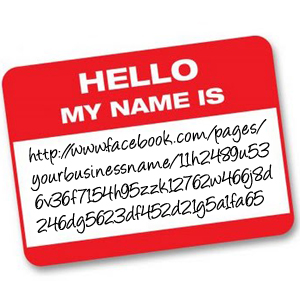 You've set up your practice's Facebook page and you're growing your followers, however you may be missing out on one important strategy for making your page easier to promote: The dedicated page URL (or page username).
If you visit a random Facebook page you'll mostly likely find that the page's URL is quite lengthy, including facebook.com plus a long series of letters, numbers and symbols. This makes sharing your page's URL on your business card, front desk sign, or by word of mouth extremely difficult.
By creating a dedicated URL for your page, you can brand your page's Facebook location to your website's URL, making it easier to remember and much easier to promote. It's a simple process but often neglected by Facebook page owners.
1) UPDATE: Facebook once required that you must have a minimum of 25 page followers before you can create a dedicated URL. This is no longer the case, so set up your dedicated URL immediately to market your page right from the start!
2) Log into Facebook and visit http://www.facebook.com/username. There you will find an interface to choose a dedicated URL (referred to here as usernames) for each of the eligible Pages you administer.
3) When selecting your dedicated URL, we recommend consistency with your other online properties, if at all possible (i.e. your website, Twitter page, etc.). For example, if your website's URL is www.BeWellChiro.com, an ideal dedicated URL for your Facebook page would be www.fb.com/BeWellChiro.
4) Follow the Facebook interface process but take extreme care. Once you choose the username for your dedicated URL, it cannot be changed. Proof your entry, and proof it again!
Once the process has been completed, you can begin to promote your page using your new, shorter and branded Facebook URL. Be sure to include it on your business cards, return address labels, your email signature line, front desk or POS signage, etc. And be sure you and your entire staff commit this URL to memory. You should be able to verbally share it from memory, just as you can share your website's address.
A Free Social Media Solution…

Time and again we hear you say, "I don't know what to post." Well, we've got the solution!

Get your free copy of "

Post Prompts: Daily Inspiration for Facebook Posts and Twitter Tweets

" and never be left at a loss for a status update again! Plus, receive your free subscription to "News Onlime" as a bonus!

You can be assured that we will never sell, trade, or rent your contact information...EVER! We hate junk and spam too.

Join Us on Facebook!