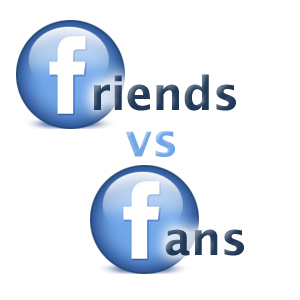 We're sure they come at you every other week or so, and you may not even give them a second thought: A friend request from a business that has inadvertently set up their Facebook business page as a personal profile.
Based on our inquiries there are generally two reasons that some businesses are missing the boat on this one.  Number one, which is usually the case; they don't know how to properly set up a business page.  Number two, and quite understandable, they like the idea of being "friends" with their clients.
But, setting up the wrong kind of Facebook page for your business is one of the biggest mistakes a business can make in social media.  Not only is using a personal profile for primarily business purposes against Facebook's Terms of Use, these businesses are also missing out on a ton of other cool business generating and relationship-building benefits.  Let us explain:
Facebook Business Pages are indexed through Google.  That's right, when someone Googles your business, your Facebook page will appear as part of Google's search results.  That means more exposure for your company and/or product.
Every business page comes with Page Insights reports.  These analytics are a very useful way of collecting data on your page views, interactions, "likes", etc.  This information can be used to plan and strategize your Facebook posts, making the most of the opportunity to engage with the 300 million Facebook users you have access to.
Business pages offer the ability to have additional pages (also known as tabs or links).  These pages are applications that can be used for a variety of interactive features your customers and prospects will love!  Similar to a mini website within the Facebook platform you can share downloadable tools via a PDF page, spotlight your tweets via a Twitter Feed page, educate and entertain via a YouTube Channel page, or keep your fans up to date on your latest blog posts using an RSS feed page.  The possibilities are endless!
The most important page you'll want to integrate into your Facebook business page is a Welcome Page (also known as a Landing Page).  By making this your landing page by default for those who are not yet followers, it acts as a welcoming billboard for anyone who has not already liked your page.  It's the perfect way to give a summary of your business, collect emails via a newsletter sign-up and "pink spoon" offer, and most importantly, kick off future engagement.  Stop by our Limelight Social Media's Welcome Page for an example of what we mean!
Personal Profile pages require a two-way confirmation process in order for someone to be a "friend".  There is the initial Friend Request/Friend Suggestion and then the acceptance of that.  In the business world it seems backward for a client (or potential client) to have to request to like your company, before they can follow and access your business's information.  And then there's the added task on your part of monitoring/accepting friend requests.  Why put your customers (and yourself) through this added and unnecessary step?
Another very important benefit to the Facebook Business Page is that there is no limit to the number of fans who can follow your page.  With a personal profile you are limited to 5000 friends.  While that may seem like a lot, it's common for businesses of all sizes to exceed this threshold and then be forced to once again inconvenience their followers with a transition process to a new page.  It would have been better to set up their Facebook presence properly the first time.
So are you sold?  As you can see the benefits of having your company set up using the proper Facebook Page is well worth it!  Obviously we have a lot more work to do to get the word out about the proper use of Facebook for business.  The next time you receive a Facebook Friend Request from a business, can you please forward them the link to this article?  We're pretty sure they'll appreciate the information!
Or perhaps you and your business made this very mistake and now are confused about how to transition to a business page and make things right by your followers.  Never fear!  We've got a strategy for that and would be happy to help you to get your business' Facebook presence set up right.  Best of all, we know how to give the entire process an upbeat spin (or should we say "twist") to make your transition positive with lots of added-value for your followers!  Trust us, you won't get a single complaint AND, your followers will actually thank you for it!
A Free Social Media Solution…

Time and again we hear you say, "I don't know what to post." Well, we've got the solution!

Get your free copy of "

Post Prompts: Daily Inspiration for Facebook Posts and Twitter Tweets

" and never be left at a loss for a status update again! Plus, receive your free subscription to "News Onlime" as a bonus!

You can be assured that we will never sell, trade, or rent your contact information...EVER! We hate junk and spam too.

Join Us on Facebook!