The Solution to Your Biggest Facebook and Twitter Challenge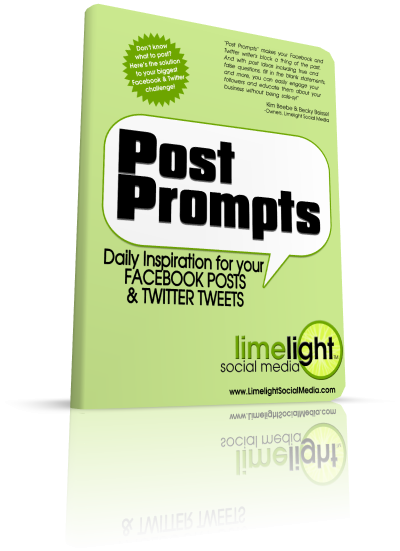 We've heard you loud and clear!  When it comes to Facebook and Twitter, content is king…and your number-one challenge.  Time and again we hear you say, "I don't know what to post."
Well today is your lucky day because we've got the solution!  How would you like to have a new post idea for your business' Facebook page or inspiration for your daily Twitter "tweet" each and every business day? Yes, we thought you might!
Starting today we'll be sharing a new "Post Prompt" each morning via Facebook and Twitter.  Follow Limelight Social Media and these daily trigger statements will come to you via your Facebook News Feed or Twitter-stream to prompt your daily posts and tweets.  Your Facebook and Twitter writer's block will be a thing of the past.  And with post ideas including true and false questions, fill in the blank statements, and more, you can easily engage your followers and educate them about your business without being sale-sy!
But that's not all.  With all the coaching, encouraging, prodding (and yes, occasional preaching) our clients receive on the topics of efficient social media processes, systems and the importance of planning ahead, it doesn't seem right to wait until the "morning of" to draft your first post or tweet of the day.  That's why we've assembled our entire "Post Prompt" collection into one handy resource.  We think it's pretty valuable and actually thought about packaging it for sale (we're thinking $29.95 sounded fair).  But then we agreed that this handy tool is too great not to be shared.  We're offering you a free copy and only ask that if you are ever in need of assistance with your online marketing efforts, or know of another business that does, you'll think of Limelight Social Media first.
To get your copy, simply enter your email address by clicking the link below and we'll send you a link to download "Post Prompts: Daily Inspiration for your Facebook Posts and Twitter Tweets".  And of course you'll still want to follow Limelight Social Media on Facebook and Twitter for more online marketing tips, ideas, news and strategy!
Click here to receive your free download!
A Free Social Media Solution…

Time and again we hear you say, "I don't know what to post." Well, we've got the solution!

Get your free copy of "

Post Prompts: Daily Inspiration for Facebook Posts and Twitter Tweets

" and never be left at a loss for a status update again! Plus, receive your free subscription to "News Onlime" as a bonus!

You can be assured that we will never sell, trade, or rent your contact information...EVER! We hate junk and spam too.

Join Us on Facebook!